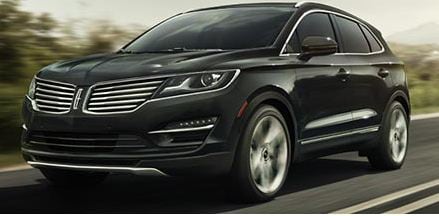 The
new 2017 Lincoln MKC
is making waves, and winning a whole new generation over. Why? It's a compact luxury SUV that provides a comfort and convenience ride, and has a lot of great new upgrades. Let's take a closer look at it!
Exterior
The 2017 Lincoln MKC showcases a new exterior with headlights that seamlessly frame the grill. These headlights are high intensity discharge (HID) bulbs which last longer, and use less energy than traditional halogen lights.  
As these lights frame the grill, they are framed by signature LED accents.
The rest of the exterior is a cross between a sport crossover and a luxury sedan. A low roof and high beltline give it an athletic look
Interior
The interior gives you one of the quietest rides you have ever experienced. The heavily insulated cabin puts you and your passengers in your own world as it comfortably takes you to and from destinations. As you drive the THX II Certified Audio System with 14 strategically placed speakers provides you with the latest innovations in sound technology.
Technology
Adaptive cruise control means the vehicle can detect slower traffic ahead, and makes adjustments automatically. This allows you to simply focus on the steering, which is what cruise control was meant to be! Also, the Lincoln Drive Control feature utilizes sensors that detect body movement, steering, and braking dynamics, and makes adjustments to the suspension for the most comfortable ride imaginable.
The 2017 Lincoln MKC is available at McKie Lincoln today, so visit our dealership today and take one for a test drive.